74th LCMS Kansas District Convention
June 9-10, 2022 | Hotel Topeka at City Center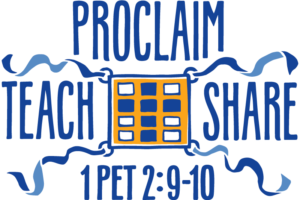 But you are a chosen race, a royal priesthood, a holy nation, a people of His own possession, that you may proclaim the excellencies of Him who called you out of darkness into His marvelous light. Once you were not a people, but now you are God's people; once you had not received mercy, but now you have received mercy.
1 Peter 2:9-10
Convention Updates
March 29, 2022: The delegate letter will be on its way tomorrow. Here on the webpage, you can now find links to registration and the hotel. About the hotel link: When making reservations, you'll see a check-out date of June 12 on the first page. Proceed to the next page, and you'll see a check-out date of June 10, the final day of the convention. Those who wish to extend their lodging through Saturday, June 11, or Sunday, June 12, may do so by contacting Hotel Topeka by phone.
March 18, 2022: The 2022 Convention Workbook is now available! In the next week or so, we'll be sending an informational letter to convention delegates and posting links for online registration and lodging.
January 4, 2022: The District Secretary has sent nominees for elected office a Consent and Biography form, which should be completed and returned to the Secretary by January 15.  A couple of helpful notes to nominees: The 2018 convention workbook is still available online, if you'd like to look at examples of nominee profiles. Brief position descriptions are available in the KSD Bylaws. (See Article III, pages 4-8.)
June 2021: Our old gmail convention account has been retired. Please send convention email to the new address: KSDconvention@kslcms.org. 
May 2021: The District Office sent congregations and rostered workers an updated convention mailing with a Call for Nominations and other revised documents. For congregations, the mailing also includes a "Status Sheet" listing nominations, delegate names, and assessments already received. (If anything seems amiss on your Status Sheet, please contact Tami Lierz in the President's Office at tami@kslcms.org.) Nominations are now due by November 30, 2021.
February 16, 2021: The vast majority of LCMS congregations that participated in the vote to delay the Synod convention by a year voted in favor of the delay. As a result, the Synod convention will now be held in 2023, and our Kansas District convention will be held June 9-10, 2022. In the coming weeks, we'll be working on fine-tuning the new convention timeline and updating documents. We'll keep you posted with updates along the way.
December 2020: On December 7, LCMS President Rev. Dr. Matthew Harrison sent a letter and FAQs to congregations and church workers regarding the possibility of moving the Synod Convention from 2022 to 2023. Congregations will be voting on this question from early January to February 15.
Convention Timeline
Updated 5/3/2021
2021
Early January 2021
The voting period for a congregational vote to delay the Synod Convention opens. 
Feb. 16, 2021
The results of the vote to extend the triennium and delay the Synod convention are in, with a majority of votes in favor. The new dates of our district convention are June 9-10, 2022.
Early May 2021                     
Congregations and rostered workers receive updated procedural information, including a revised Call for Nominations with an extended deadline.
Fall 2021                      
Optional circuit forums may be held to discuss possible convention overtures. (Election of circuit visitors was completed in the fall of 2020.)
November 30, 2021       
All nomination forms and delegate forms are due to the District Secretary. Timely submission will facilitate nominee acceptance and floor committee selection.
2022
February 1, 2022             
Nominee acceptance and biography/profile forms are due to the District Secretary, who will then prepare the voting slate for the convention workbook. Workbook reports from circuit visitors are due to the District Office.
February 18, 2022            
Overtures are due to the District Office (see template). After review by the District President, they will be assigned to floor committees and included in the convention workbook.  
March 18, 2022               
The convention workbook is completed and posted online.
April 1–2, 2022                
Floor committees meet to discuss assigned overtures.
May 24, 2022                  
A workbook addendum with convention resolutions is available online.
June 9–10, 2022             
Kansas District Convention
CONVENTION PRAYER
Lord God, bless Your Word wherever it is proclaimed. Make it a word of power and peace to convert those not yet Your own and to confirm those who have come to saving faith. May Your Word pass from the ear to the heart, from the heart to the lip, and from the lip to the life that, as You have promised, Your Word may achieve the purpose for which You send it; through Jesus Christ, our Lord. Amen.