West Africa/Guinea Mission
Supported by the LCMS Kansas District Since 1997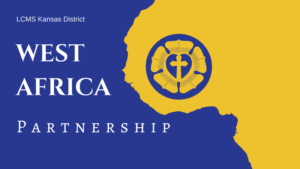 The Kansas District has supported international mission work in the country of Guinea, West Africa since 1997. The LCMS sent its first missionary to Guinea in 1996 to work with refugees who fled there from Liberia and Sierra Leone; the Kansas District joined the effort the following year. (To read more about LCMS mission work in Guinea, visit the LCMS Guinea page.)
Phase 1 of our mission partnership focused on spreading the Gospel and engaging in mercy work. Over the past two decades, we've deployed multiple missionaries, pursued mercy projects, sent Kansans on short-term mission trips, and offered financial support and prayer. Workers in Guinea have established churches and preaching stations, baptized believers, and encouraged evangelists.
We're now in Phase 2: Raising up pastors for Guinea and other French-speaking West African countries. Three Guinean Lutherans have recently completed their academic studies at the Lutheran Center for Theological Studies (CLET), an international seminary in Togo. Local entry-level pastoral education is also now underway in Guinea. Thanks be to God! You can read more about the CLET and the students from Guinea below, or download a quick overview by clicking the link below.
Guinea/West Africa Fact Sheet (2020)
Please keep these students, our church workers, and our brothers and sisters in Christ in West Africa in your prayers.
Newsletters from the Field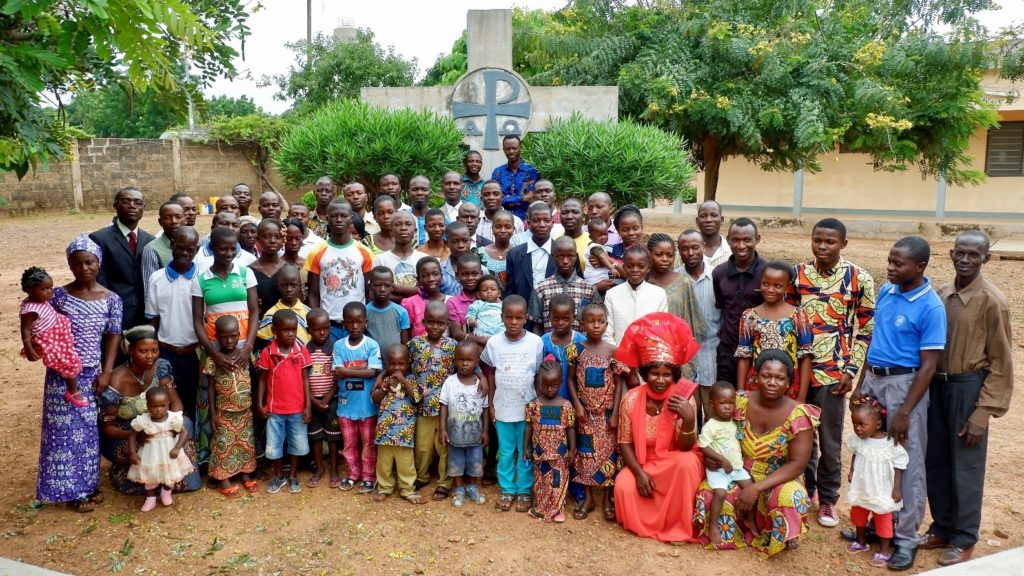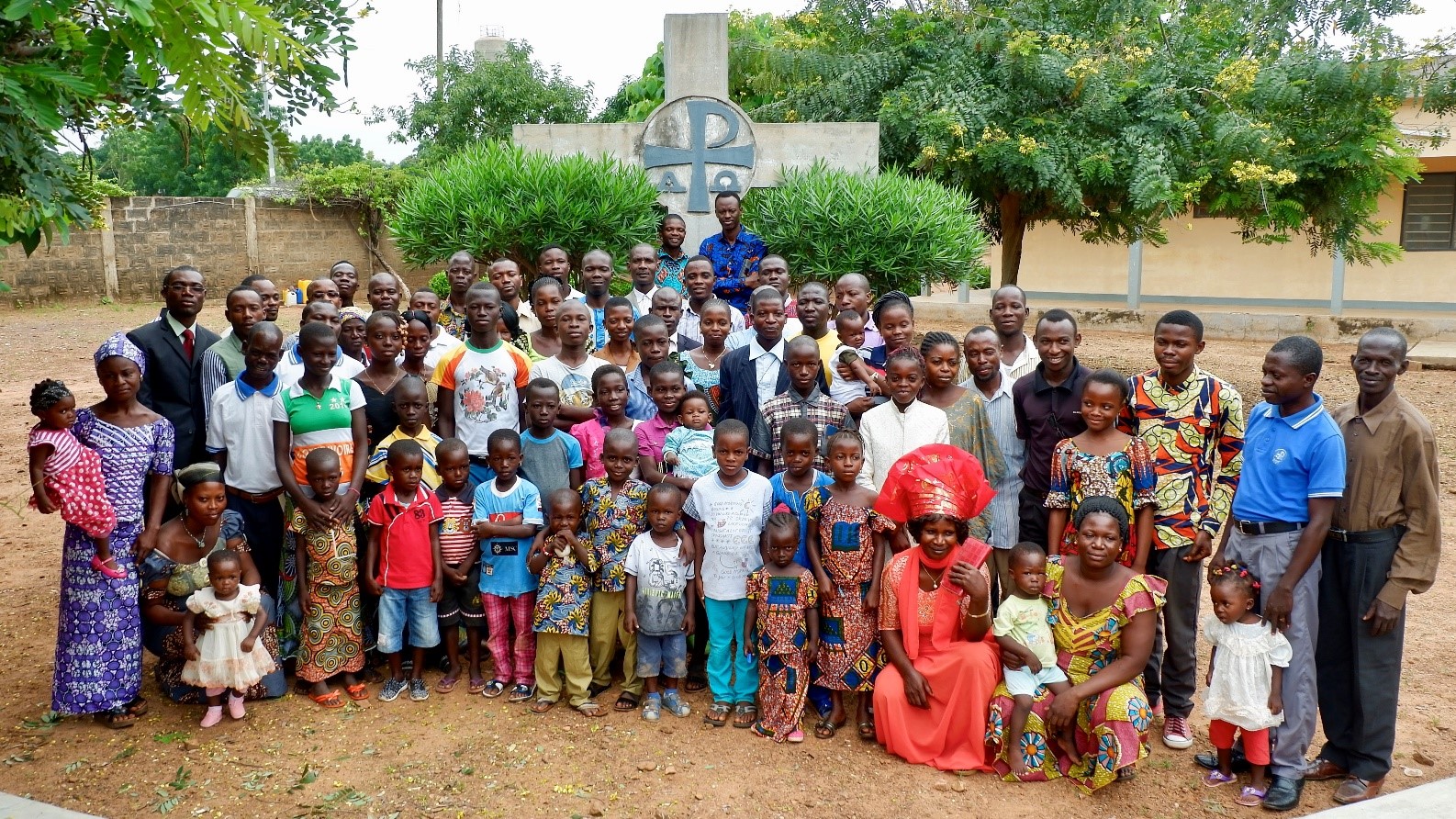 The Lutheran Center for Theological Studies (CLET) provides seminary education for students from countries in West and Central Africa, including Togo, Benin, Burkina Faso, Ivory Coast, Guinea, Republic of the Congo, Democratic Republic of the Congo, and Burundi. The first pastors from CLET, five men from Togo, were ordained in 2002. The typical course of study at the CLET is three years of seminary training and two years of vicarage. In addition to its original site in Togo, the CLET has added sites in Guinea and the Congo.
For a vivid look at life at the CLET, check out the article, "A Moment Decades in the Making," in the online edition of Lutherans Engage the World.
Alexis Tamba Kondiano, pictured here with his wife and three children, was baptized in a Lutheran church as an infant among the Kissi people. Prior to entering the seminary, Alexis served the church as an evangelist, congregational president of the young people, and Bible study leader. When he completes his seminary education, he will go to the city of Guékedou, where he will work on establishing a new Lutheran church in conjunction with the national church. (Not pictured: New daughter Consolée, born and baptized in 2019.)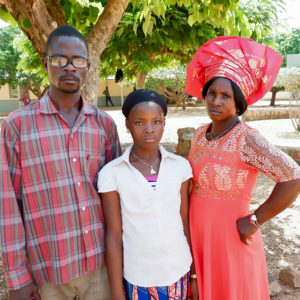 Prospère Lamah Foromo, pictured at left with his wife and daughter, is a recent convert to the Lutheran faith. He began attending Lutheran services in 2011 and was baptized and confirmed in 2014. After completing his seminary studies, Prospère will return to his home region, where there are 13 congregations and 10 preaching stations but no ordained pastor. He speaks four of the seven languages of his region (and part of another), which will enable him to reach out to many people in their birth language.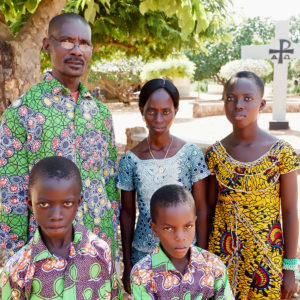 The CLET welcomed Moïse Théa (Moses in English) and his family in the 2017-18 school year. Moses' story is quite unique, as he was a soldier during the war across the border in Liberia. He lost his brother in the war and was himself shot but survived. He knows French, English, and two other local languages. Now, he desires to proclaim the Gospel which sets people free.
Below is a "Who's Who" of mission personnel working with in French-speaking West and Central Africa through the LCMS Office of International Mission. We thank them for keeping us informed about what's happening in the field and pray that God would guard and protect them as they work to further His mission. To learn more about them, click on their names.
December 2018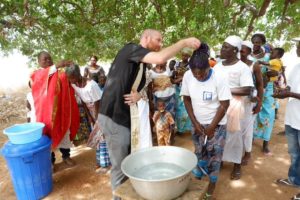 Missionaries Ryan McDermott and Micah Wildauer participated in a baptismal event at Djepiéni, a preaching station started by the evangelism efforts of Désiré Tadé many years ago. Tadé recently revived these efforts with a Togolese student, Jean-Jacques Nabe, who often bikes to the area (~10 km) to catechize the people. At this service, 65 children were baptized, and 48 youth and adults were baptized and confirmed.
June 2018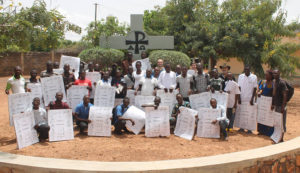 Long-time Guinea missionary Rev. Tim Heiney (back row in hat, fourth from right) taught a weeklong workshop at the Lutheran Center for Theological Studies (CLET) in Togo focused on evangelism and catechetical materials he developed called "The Word Illustrated" ("La Parole Dessinée" in French). Participants received poster-sized sheets that they can use to teach the basics of the Christian faith in local language contexts with limited literacy.
January 2018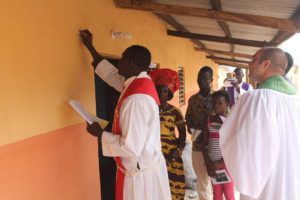 The CLET added 12 new dormitories to accommodate students and their families. Pictured here is the Rev. Lari Lambon, president of the Lutheran Church of Togo, writing a traditional blessing on one of the new homes in conjunction with the Service of Blessing held on January 27, 2018.
June 2017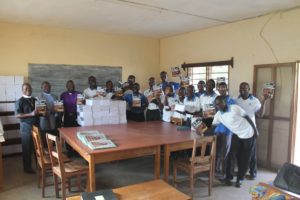 900 copies of the Book of Concord in the French language were delivered to West Africa, a project supported by donations from the Kansas District. Rev. Jacob Gaugert, professor at the CLET, reports on his Facebook page that the books, which had been in short supply, "will be distributed to Lutherans throughout West and Central Africa over the coming months and years. This delivery is part of a much larger project to bring needed theological resources to theological institutes and church leaders in francophone Africa. We specifically thank the Kansas District of the LCMS, Lutheran Heritage Foundation, Mission Central, the Rev. David Maffett in Paris, and the Deutsche Seemannsmission in Lomé for the patient collaboration to help make this delivery a reality."
We need shepherds to strengthen these churches. Now is the time.
Missions Staff
Rev. Dan Galchutt
Assistant to the President for Missions and Stewardship
785-357-4441, ext. 2002
dangalchutt@kslcms.org
Janet Powell
Administrative Assistant
janet@kslcms.org
785-357-4441, ext. 2001
Our Partners
The Kansas District has partnered with Mission Central (Mapleton, IA), LCMS Mission Advancement, and the LCMS Office of International Mission (OIM) to strengthen mission outreach in French-speaking West Africa. To learn more about mission and ministry activity in Africa, visit the following webpages: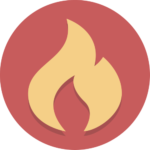 Kansas District Pentecost Offering
The annual Kansas District Pentecost Offering is our major fundraiser for West Africa mission work. This year's offering, which was held May 23, will support theological education in West and Central Africa. To learn more, visit our Pentecost Offering webpage.
Thank you for your support!