The Deaf Ministry Challenge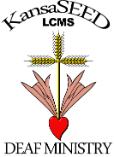 There are more than 3 million deaf and 28 million hard-of-hearing people in the United States. In Kansas, there are approximately 9,100 profoundly deaf and 108,000 hard-of-hearing people. About 95 percent of deaf people are not churched, which makes this population a vast mission field. Some experts say American Sign Language has become the fourth-most-common language in the United States.
KansaSEED (Support, Encourage, Expand Deaf Ministry) is dedicated to planting the seed of God's Word in the deaf community.

Program Goals: 
Training deaf leaders to evangelize
Reaching out to members of the deaf community and their families, striving to meet their needs through involvement in conferences and clubs
Raising awareness of the unique needs of the deaf, particularly the barriers to participating in corporate worship and Christian education
Training qualified interpreters
Calling a pastor to serve as missionary to the deaf in Kansas
For more information about KansaSEED, including worship services and contact names of pastors, download the brochure.
Another helpful resource: Lutheran Deaf Mission Society (LDMS) Website 
For additional questions, contact: