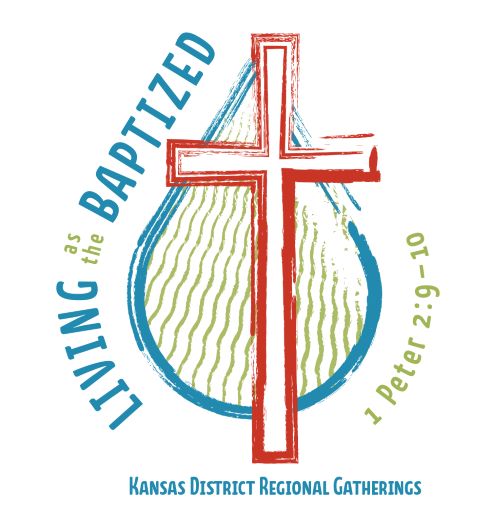 2022 LCMS Kansas District Regional Youth Gathering
Saturday, November 19, 2022
Theme: Living as the Baptized
"But you are a chosen race, a royal priesthood, a holy nation, a people for His own possession, that you may proclaim the excellencies of Him who called you out of darkness into His marvelous light. Once you were not a people, but now you are God's people; once you had not received mercy, but now you have received mercy" (1 Peter 2:9-10). 
We are excited for the 2022 Kansas District Regional Youth Gathering, on Saturday, November 19! For the first time, District youth groups will be able to select a location to attend. One location will be at Beautiful Savior Lutheran Church (13145 S. Blackbob Rd., Olathe, KS 66062), and the other location will be at Risen Savior Lutheran Church (6770 E. 34th St. N, Wichita, KS 67226).
The cost per person (grades 9-12 and adult leaders) is $50, which includes the price of a t-shirt. Note: late registration will increase to $60 per person. Registration is now open. Scroll down below to register, print off consent forms, and find KDYG information for both the Wichita and Olathe locations. Deadline to register is November 1 to guarantee a t-shirt.   
Click here to print off and sign the District Youth Protection Policy, Media Release Form, and Medical Consent Form.
Wichita Location
Risen Savior Lutheran Church
6770 E. 34th St. N
Wichita, KS 67226
Click here to see the area LCMS church congregations for the Wichita location, for Sunday worship.
Olathe Location
Beautiful Savior Lutheran Church
13145 S. Blackbob Rd.
Olathe, KS 66062
Click here to see the area LCMS church congregations for the Olathe location, for Sunday worship.
KDYG speaker, Wichita location
Lisa Hellyer, DCE
Director of Engagement and Outreach, LeadaChild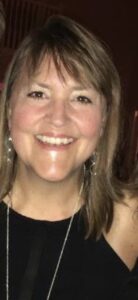 Lisa loves Jesus and enjoys sharing His love through her work as the Director of Engagement and Outreach with LeadaChild. Before working with LeadaChild, Lisa served as a DCE in the church for many years, serving in youth ministry as well as in local and global mission efforts. She currently lives in the Kansas City area where she lives with her two teen nieces, Alyssa & Isabella. She has a dog named Shula, who is named after Don Shula, the long-time winning coach of the Miami Dolphins. Some of her favorite things in life include hanging out with Jesus, cheering for the Miami Dolphins, kayaking, golfing, and watching Survivor, American Ninja Warrior, and shows about Alaska. Lisa hates cold weather and is looking forward to retiring in her home state of Florida some day.
KDYG speaker, Olathe location
Rev. Jake Boessling
Campus Pastor/Director of Campus Ministry Concordia University, Texas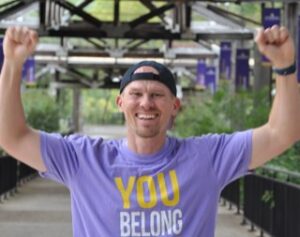 Jake Boessling is an engaging, high-energy, and seasoned leader within the LCMS. He has planted churches with the homeless, traveled around the world on missional experiences, and enjoys spending his days inspiring and developing college students to disciple their friends at Concordia University Texas. He has been united in marriage to his wife Nicolette for 15 years. He enjoys joining in with his three children to make TikTok's, jump on the trampoline, and beat another level of Mario Brothers Deluxe on the Switch. He began his ministry life as a Director of Christian Education in Phoenix and now serves in the role of Campus Pastor in Austin. He is excited to share God's Word with our gathering as He engages and applies 1 Peter 2:9-10 to our lives as we continue Living as the Baptized.
Living as the Baptized
As we dive into our theme verse 1 Peter 2:9-10, we are going to find that life is a mission trip.
Session 1 – Baptized. So what? Life is like one long road trip. Let's begin our trip by starting where it all began, our baptism into Jesus' life, death, resurrection, and mission for us as His chosen people.
Session 2 – Bored. Is there more to life than this? Yes! A look at Acts 1:8, Matthew 28:19-20, and John 10:1-10 will help us snap out of seeing life as boring and stale. Life can be an adventurous mission trip wherever we go!
Session 3 – Belong. Can my friends belong to Jesus and the Church before they believe? Let's explore stories from Jesus' life and our lives that will help us find ways to help our pre-Christian friends belong to a kind and loving community way before they ever believe and trust fully in Jesus.