Youth Ministry
Get Involved. Grow in Faith.
The Kansas District offers a variety of opportunities that support and encourage young Lutherans in their faith, including the recurring events listed here. Details and announcements about these events will be added as they become available.
Lutheran Youth Fellowship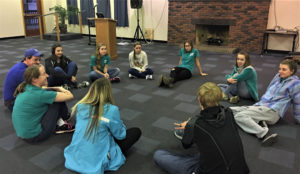 Lutheran Youth Fellowship (LYF) offers Lutherans between the grades of 9 through 12 a chance to build connections, grow in faith and develop leadership skills. Selected representatives participate in training, attend District events such as the Kansas District Youth Gathering (fall) and Teen Fellowship Retreat (spring), and apply what they've learned at their home churches.
For more information, contact our LYF Coordinators: DCE Charity Smith, dce@stlukesmanhattan.org or Jesse Smith, smithjesse@icloud.com.
Are you interested in serving as an LYF representative in 2018-2019?
If you're a sophomore with strong leadership skills and an interest in supporting and encouraging other youth in their faith, consider applying! Applications are due August 15th. If you have any questions, please contact LYF advisors DCE Charity Smith or Jesse Smith.
Current LYF Representatives
Our 2017-18 LYF representatives are Annalise Fischer (Ascension, Wichita), Hannah Fritz (Prince of Peace, Topeka), Jeremy Hinrichs (St. Luke's, Manhattan), Clara Jackson (Trinity, Garden City), Sydney Moore (Christ, Overland Park), and Hannah Weers (Risen Savior, Wichita). You can find out more about the representatives and what they do in the March 2018 issue of The Lutheran Witness, Kansas edition (p. 3).
Junior High Rallies
The Kansas District hosts Junior High Youth Rallies every fall, with music, mixers, and Bible study for grades 5-9. The 2018 rallies (one on the east side of the state, one on the west) will be held October 12 and 13. At this year's events, we'll focus on the doctrines of sinner/saint, forgiveness, and grace, using the parable of the prodigal son in the context of the movie Despicable Me 3.
Eastside camp: Timber Lake Camp, Williamsburg
Westside camp: Shepherd's Staff Retreat, Rexford
Cost: $50 (+$25 for paintball at the westside camp in Rexford)
Questions? Contact Pam Amey at 316-682-1318 or pamey@holycrosslutheran.net
Kansas District Youth Gathering (KDYG)
The 2018 Kansas District Youth Gathering (KDYG) will be held in Hutchinson on November 16-18. Details for the fall event, open to grades 9-12, will be available in mid-August on the KDYG webpage.
In 2017, nearly 350 students representing 34 Kansas District congregations attended the Gathering, which included keynote speaker Pastor Matt Popovitz and the band Bread of Stone.
National Youth Gathering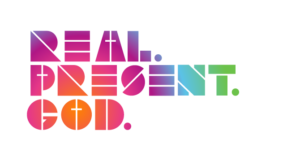 2019 National Youth Gathering
July 11-15, 2019
Minneapolis, MN
Every three years, the LCMS hosts the National Youth Gathering, bringing together thousands (and thousands!) of Lutherans from around the country for five days of Christ-centered worship and service. The theme this year, based on Psalm 46, is "Real. Present. God." You can find out more about the event and sign up for updates on the LCMS site:
Lutheran Valley Retreat Summer Camp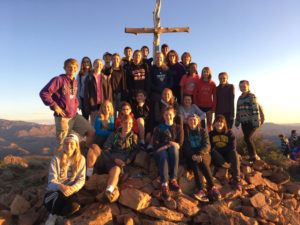 Every summer, the Kansas District sponsors Lutheran Valley Retreat (LVR) Summer Camp, a weeklong camp in Colorado for Lutheran youth. The 2018 camp was held July 15-20, with 82 participants. LVR encourages youth to stretch themselves by bonding with new friends and encouraging one another to step out of their comfort zone by participating in physical challenges. Details for the next camp will be available in early 2019.
Higher Things Conference
Higher Things, a Recognized Service Organization (RSO) of the LCMS, exists "to assist parents, pastors, and congregations in cultivating a distinctly Lutheran identity among their youth and young adults." Higher Things holds youth conferences each summer at locations around the country. We'll post details about 2019 conferences as they become available.
Youth Protection Policy
Attention: Pastors and Youth Leaders of the Kansas District
Too often we read of how the children entrusted to the care of adults have been let down and harmed by those who were meant to protect them. Such a thing grieves us all and in hindsight, we wish things were done to protect those children.
The Kansas District Youth Ministry Team is committed to being proactive in keeping the children with whom we come in contact as safe as we possibly can. To that end, the Kansas District Board of Directors has reviewed and updated our Youth Protection Policies. These policies, approved on April 25, 2014, are available below. The policies took effect on January 1, 2015 and apply to all District-sponsored youth events.
We ask for your cooperation in maintaining the appropriate background checks and documentation of all of the people in your ministry who are involved or come in contact with the children in your sphere of ministry. We strongly encourage each of you not only to cooperate with the policies but also to consider applying these same policies in your congregations in order to protect your adult volunteers who work with minors.
Because of the need for integrity, please understand that we're following these policies as a best practice. We want to make sure that details are tended to properly so that none of our young people are excluded from our events.
If you have questions or need clarification, please feel free to contact Educational Services at 785-357-4441, Ext. 200.
District Staff
Jim Bradshaw
Assistant to the President for Educational Services
785-357-4441
800-357-4421
Fax: 785-357-5071
jbradshaw@kslcms.org
Tami Lierz
Administrative Assistant
tami@kslcms.org
785-357-4441 ext. 200
800-357-4421 ext. 200

Click or tap the logo above to go to the LCMS Youth Ministry page, where you'll find great resources for youth and youth leaders. For a quick overview, check out this information sheet.