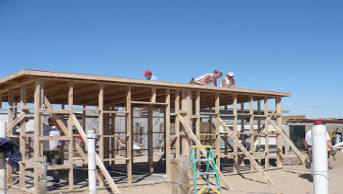 If you're looking to use your God-given gifts to help others, consider participating in a servant event. On this page, you'll find an overview of events sponsored by Kansas District congregations as well as the LCMS. We'll keep you posted about new opportunities as we hear about them.
Congregation-Sponsored Events
Kansas District congregations typically sponsor several servant events each year. We'll post details about opportunities as they become available.
LCMS Servant Event Opportunities
The Synod offers an array of opportunities to serve your neighbor. Build a new home. Lead VBS for disadvantaged children. Work in a soup kitchen. Clean up after a disaster. On the LCMS servant events page, you'll find servant events in the following categories:
Construction
Human Care
Environment
Outreach
Multicultural
Crisis
Family
The needs are there. Take a look and see where you could make a difference!
Learn more
District Staff
Jim Bradshaw
Assistant to the President for Education and Youth
785-357-4441
Fax: 785-357-5071
jbradshaw@kslcms.org
Tami Lierz
Administrative Assistant
tami@kslcms.org
785-357-4441 ext. 5001