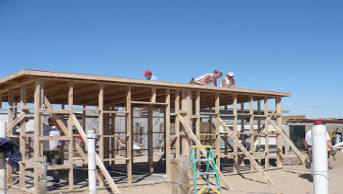 If you're looking to use your God-given gifts to help others, consider participating in a servant event. On this page, you'll find an overview of events sponsored by Kansas District congregations as well as the LCMS. We'll keep you posted about new opportunities as we hear about them.
Congregation-Sponsored Events
Servant Event: Lutheran Valley Retreat
May 24-28, 2018
Divide, CO
Join 2018 graduates, college students, and other young adults for a weekend in the Rockies helping Lutheran Valley Retreat (LVR) with work projects.
Cost: $50, due by May 1 ($75 after May 15)
Sponsoring congregation: Holy Cross Lutheran Church, Wichita, KS
Questions? DCE Brian Amey, bdamey@holycross.net, 316-684-5201
April is National Volunteer Appreciation Month!
A Special LCMS Message to Dedicated Volunteers
Your personal investment of your time and talents is so invaluable in making known the love of Christ. Our world is a much better place with individuals sharing their servant's heart. Your love of others is translated into everything you do, and it enriches all those you reach with your service. We thank you for embracing service and investing in sharing the mission. You truly make a difference!
We couldn't agree more. To all who volunteer in the Kansas District, thank you!
For more on "Celebrating LCMS Volunteers," visit the Synod website.
LCMS Servant Event Opportunities
The Synod offers an array of opportunities to serve your neighbor. Build a new home. Lead VBS for disadvantaged children. Work in a soup kitchen. Clean up after a disaster. On the LCMS servant events page, you'll find servant events in the following categories:
Construction
Human Care
Environment
Outreach
Multicultural
Crisis
Family
The needs are there. Take a look and see where you could make a difference!
Learn more
District Staff
Jim Bradshaw
Assistant to the President for Educational Services
785-357-4441
800-357-4421
Fax: 785-357-5071
jbradshaw@kclcms.org
Tami Lierz
Administrative Assistant
tami@kslcms.org
785-357-4441 ext. 200
800-357-4421 ext. 200