Kansas District Life Ministry
In your book were written, every one of them, the days that were formed for me ... " (Ps. 139:16).
I believe that God has made me and all creatures; that He has given me a body and soul, eyes, ears, and all my members, my reason and all my senses, and still takes care of them.
Martin Luther
Holy Scripture in its entirety proclaims the works of God: Creation, Redemption, and Sanctification. As Christians we confess in our vocations the Gospel of Jesus Christ, to speak God's truth in this world and to act on behalf of the helpless, to seek to proclaim the God-given value of human life in our words and deeds. In this Christian life we at times may need assistance or support in proclaiming the sanctity of human life. In response to this need, the Lutheran Church—Missouri Synod has asked each district to identify a pastor to serve as District Life Coordinator.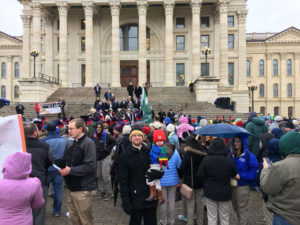 The District Life Coordinator (DLC) serves as a point of contact between congregations, church workers, and lay people of the District, connecting them with resources of the LCMS such as Eyes of Life and LCMS World Relief and Human Care as well as affiliated ministries such as Lutherans for Life. The Life Coordinator shares information on these resources and highlights news and events happening within our communities and state. In coordination with the District Office, the Kansas DLC will schedule and plan a District March for Life event either on or near the date of the State March for Life.
Meet the Kansas District Life Coordinator
My name is Matthew Durance, and I am pastor at Bethlehem Lutheran Church in Greenleaf and serve as Vacancy Pastor at St. Peter's Lutheran Church in Barnes. It is my pleasure to serve as District Life Coordinator in the Kansas District.  If you have questions that you need help answering, please contact me either by email (pr.matthew.durance@gmail.com) or at the Bethlehem office, 785-747-2407.  I look forward to our work together, and I encourage all District congregations, workers, and church members to contact me and let me know of the work each of you all are doing to proclaim the Gospel of Jesus Christ and the sanctity of all human life.
"By awesome deeds You answer us with righteousness, O God of our salvation, the hope of all the ends of the earth and of the farthest seas; the one who by His strength established the mountains, being girded with might; who stills the roaring of the seas, the roaring of their waves, the tumult of the peoples." – Psalm 65:5-7
News and Events
Unplanned RESOURCES
Have you seen the movie Unplanned? This powerful film takes a hard look at the horrors of abortion and the gift of God's grace and forgiveness. Whether you've seen the movie or are planning to see it soon, Lutherans for Life is proud to offer several resources to aid you in understanding the film from the Lutheran perspective of Law and Gospel. The resources even include a study guide for your church's small group.
PRESIDENT HARRISON'S STATEMENT ON LIFE
LCMS President Rev. Dr. Matthew Harrison issued a statement on January 24, 2019, in response to new laws extending abortion rights.  "Life, not death, is the goal of humanity. History testifies that death is never the means through which justice and human rights prevail. We do not advance on the graves of our children."
You can read the full statement HERE.
2018 NATIONAL LIFE CONFERENCE
A group from Kansas attended the National Lutherans for Life Conference, "From Age to Age the Same," on October 12–13 in St. Louis. Pictured at right are Jeanne Mackay, Kansas Lutherans for Life President, Rev. Matthew Durance, Kansas District Life Coordinator, Pastor Michael Schmidt of Peace Lutheran Church in Natoma, and Michael Ulrich, member of Peace, Natoma.
2019 KANSAS DISTRICT LIFE CONFERENCE
The first Annual District Life Conference was held January 12, 2019, at St. John's Ev. Lutheran Church in Topeka, with the theme, "In the Very Midst of Life: Difficult Questions Regarding Human Life." Speakers at the event included Pr. Ben and Tamara Ockree, Pr. Matthew Durance, Kansas District Life Coordinator, and Pr. Michael Brockman.