Rural and Small Town Mission
Rural and Small Town Mission (RSTM)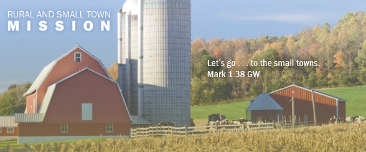 The primary focus of Rural and Small Town Mission (RSTM) is to support congregations in rural and small town settings in the work to which God has called them. RSTM recognizes that, while the work to which God has called congregations is the same, the context in which that work is carried out can be very different – even in rural America.
Rural and Small Town Mission provides encouragement and support for congregations of all sizes. Our leadership training events, conferences and webinars address many of the unique challenges of congregations. For more information, please contact Amy Gerdts at 888-463-5127 or rstm@lcms.org.
The 2018 National Rural & Small Town Mission Conference will be held Nov. 8–10 in Kansas City, MO, at the Hilton Kansas City Airport. The conference will address blessings and challenges facing rural and small-town congregations today. Congregations will be encouraged in becoming healthy churches, eager to bear witness for Christ and able to show mercy to those in need in their communities and develop a robust life together with fellow members. This conference is meant for anyone living, serving or interested in rural or small-town areas, with topics and resources specifically suited for this unique mission field.
Keynote speakers:
Timothy Koch, pastor of Concordia Lutheran Church in Cresbard, SD, and Immanuel Lutheran in Wecota
Dr. Robert H. Bennett of Concordia Theological Seminary in Fort Wayne, IN
Tom Schlund, pastor of Trinity Lutheran Church in Algona, IA
Chaplain Craig Muehler, director of the LCMS Ministry to the Armed Forces
Online registration deadline: September 15, 2018
More information and online registration: RSTM Conference Page.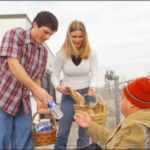 Rural & Small Town Mission (RSTM) exists to support and encourage rural and small town congregations to engage their communities with the love of Christ. In partnership with a host district, RSTM invites congregations to participate in "Engaging Your Community" (EYC) events in the district.
Ideally, a pastor and three to four lay leaders will attend EYC together. Congregational leaders will examine their communities, consider ways in which they can serve the unique needs of those communities, identify assets they have in place, and make plans for utilizing their resources for engagement. An important theme of EYC events is building and strengthening partnerships as multi-point parishes and individual congregations explore ways to work together for the needs of their communities.
RSTM will assist each congregation with bringing home some practical approaches for engaging and touching their communities with the Gospel. Each congregation will receive invaluable, personalized demographics for their community.
Rural/Small Town Webinars
RSTM offers monthly webinars on a variety of topics; recent topics have included enhancing education efforts in your congregation, using technology for ministry, and revitalization.
To find a schedule of upcoming webinars or watch archived webinars, visit the RSTM webinar page.
To receive webinar invitations, contact Amy Gerdts at 888-463-5127 or rstm@lcms.org.
Missions Staff
Rev. Dan Galchutt
Assistant to the President for Missions and Stewardship
800-357-4421, ext. 222
dangalchutt@kslcms.org
Janet Powell
Administrative Assistant
Missions and Stewardship
janet@kslcms.org
785-357-4441 ext. 223
800-357-4421 ext. 223